Discover a smart thermostat option
Find out about our smart thermostat installation services in Scottsdale, AZ and all Maricopa County areas
In Scottsdale, Arizona and all Maricopa County areas, you have the opportunity to try a new smart thermostat. Cool/Hot Guys AC installs Ecobee smart thermostats as well as all other brands. Many of our residential and commercial customers are already enjoying the benefits of a smart thermostat.

If you choose our smart thermostat installation services, you'll see that Ecobee smart thermostats are:
Easy to use
Sleek
Energy-efficient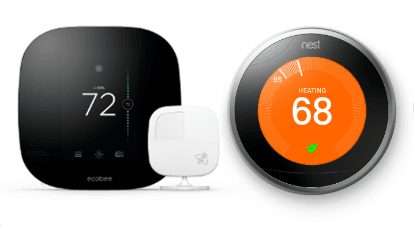 An Ecobee thermostat will manage your HVAC system to reduce energy expenditure, cutting down both your energy bills and your environmental impact.

Call 602-266-5287 when you are ready to cut costs and experience some of the latest in smart home technology!
Why choose Ecobee?
When you're planning on a smart thermostat installation, you have several options. We believe an Ecobee smart thermostat is among the best choices. An Ecobee device offers all the benefits of an eco-friendly, energy efficient device while being accessible.
You can use an Ecobee smart thermostat in your building with your voice, on the go with a virtual assistant, on your smartphone with the Ecobee app or on your Apple Watch. Ask us about our user-friendly Ecobee thermostats today.
Contact us now